Jaime Rutt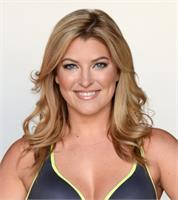 Jaime is a fully certified STOTT PILATES® instructor, an owner of Hells Belles Burlesque, and the creator of Body Bombshell Fitness.

With over 15 years of teaching experience, she has seen how pilates completely changes peoples lives. Their posture improves, their bodies transform, and before you know it, their confidence is soaring!


Jaime's teaching style is a combination of unique physicality, creative spirit and fun! She loves to share her insights while transforming your body. Sign up and get ready to sweat!
Jaime Rutt instructs the following:
Personal Pilates most popular class! A total body workout that strengthens muscles and creates long, lean lines. The reformer's adaptable spring resistance allows for modifications to create the perfect workout for every level. All levels welcome. Prenatal clients must have studio's approval to enroll.




This class will change your life for the better and turn you into a Bombshell in one hour! This dance based workout consists of a combination of exercises, with a sexy bombshell twist, which will elevate your heart rate and burn calories. After a 30 mintute fun and flirty, aerobic dance warm-up, the remaining 30 minutes are focused on sculpting and toning your body from head to toe - leaving you feeling like a Body Bombshell!!




Prenatal Pilates helps to prepare your body for the challenging demands of labor, delivery, and caring for your newborn. As your body changes throughout pregnancy, building and maintaining strength and stability is more important than ever. Increases in hormones can cause joint and ligament laxity, while your center of gravity shifts with the development of the baby. Prenatal classes will focus on core stability and proper posture, while developing the endurance needed for labor and delivery.

*Class open to existing clients only. Physicians release required.