Stacey Bosworth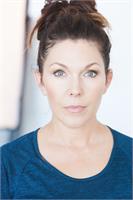 Stacey is the instructor to go to if you like an intense athletic Pilates workout. She has worked with all types, from teens, older populations, men, groups, pre/post natal, injuries of all types and athletes. She received her certification through The Physical Mind Institute, while also taking many workshops in the classical method, and STOTT Pilates. She is a purple stripe belt in Kung Fu and hopes to become black belt one day.

Also, a certified "Cardio Barre" and Yoga instructor, Stacey loves to motivate people to get into shape, stay in shape and feel great for the rest of their lives.


Her motto is: "Work past your comfort zone, have fun and your body can be just how you want it!"
Stacey Bosworth instructs the following:
Feel the burn with this intense hour of body sculpting! Low weight, high rep exercises enable you to really increase your strength and endurance, while not sacrificing your form. All levels welcome. Previous reformer experience is recommended.




Deepen your mind-body connection in this class that combines the traditional pilates repertoire with yoga inspired movements. Work your way out to a calm and centered state, as you gain a deeper awareness of your body and correct bio-mechanics.