Sarah Mann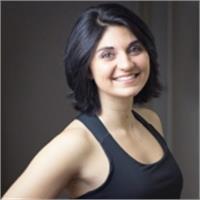 Sarah Mann received a Bachelor of Fine Arts in Dance Performance from Chapman University. During her time at Chapman, as a result of chronic back pain, she discovered her appreciation and love of Pilates. After college she went on to receive a Pilates Certification from Body Arts and Science International with a Dance Specialization.

In addition, Sarah is a TPI (Titleist Performance Institute) Certified Trainer (Fitness Level 1), Neurokinetic Therapy (Level 1) certified, a Roll Model Method Practitioner, and a DaVinci Body Board Master Teacher Trainer. Sarah currently teaches Pilates throughout the San Fernando Valley. She enjoys sharing her passion for fitness and movement with her clients, while challenging them to find a stronger, more-connected self.
Sarah Mann is currently not instructing any classes.