Kim Harris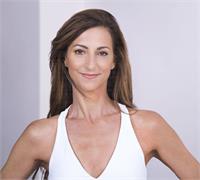 Kim Harris is the owner of Personal Pilates. She is a certified STOTT PILATES® instructor with certification in Mat, Reformer, Cadillac, Chair, and Barrels. Kim has also received additional education and certification in Special Populations and Working with Injuries. She received her training at John Garey Fitness and Pilates in Long Beach, the leading Pilates training studio in Southern California.

Kim has been involved in fitness training and teaching for more than 20 years. She studied dance at San Jose State University and went on to enjoy a successful career as a competitive gymnast, professional dancer, and choreographer for stage and television. Teaching Pilates, integrating body precision and placement, breathing, bio-mechanics and communication, are all natural extensions of Kim's experience in athletics and dance.

In her work with you at Personal Pilates, Kim will tailor an individual program to address your specific needs. She will help you to look better and feel better.
Kim Harris instructs the following:
Enhance body awareness while gaining strength and flexibility. This class will improve your Pilates practice by focusing on basic technique, while developing proper posture and true core strength.




Challenge yourself and elevate your Pilates practice with this class that combines reformer, chair, and mat exercises. An intense workout that will push your endurance, balance, and coordination to a new level!




Heart pumping cardio, punctuated with short intervals of strength work, make for the ultimate class! This high intensity, low impact workout uses our Jumpsport® Fitness Trampolines, which use elastic cords and provide the perfect amount of resistance. Leave class feeling energized and inspired for the day ahead! We require clients be injury free.




Personal Pilates most popular class! A total body workout that strengthens muscles and creates long, lean lines. The reformer's adaptable spring resistance allows for modifications to create the perfect workout for every level. All levels welcome. Prenatal clients must have studio's approval to enroll.